The Landsharks Band (and Friends) Cruise is 12 fun-filled nights of adventure cruising through the DEEP Southern Caribbean into the PANAMA CANAL REGION on The Norwegian Joy with The Landsharks Band (and friends)! Attend PRIVATE on-board concert events with VIP access, and in the daytime, visit some of the most coveted cruise destinations including Miami, Aruba, Panama, Colombia, Costa Rica, Grand Cayman, Curaçao, The Bahamas, and then back to Miami!
This is a FUN cruise with incredible people, great music, and great ports!
*Benefiting Foster Children

Private VIP Concerts!
The Landsharks Cruise is THE ULTIMATE BEACH PARTY CRUISE filled with PRIVATE VIP Concerts by some of the absolute finest beach and tropical musicians including Gary Roland & The Landsharks Band (and Friends) playing your favorite Beachy and Tropical songs including tunes by Jimmy Buffett, The Beach Boys, Kenny Chesney, Zac Brown, and too many great artists to mention!
The Most Fun You Can Have On A Cruise!
The Landsharks Cruise is packed with hi-energy fun, interaction, and audience participation. YOU ARE THE LANDSHARK! Come ready to participate, party, and dance! But its not required!
If you prefer, just sit back, relax, and enjoy the shows!
Theme Night Concert Parties
The Landsharks Cruise is filled with 9 nights of theme nights including a Parrothead Beach Party Night (Jimmy Buffett Songs and more), a Trop-Rock Night (Zac Brown, Kenny Chesney, more Buffett, and others), a Yacht Rock Night (70s and 80s), A Rock 'N Roll Beach Party Night (Beach Boys, Beatles, Rolling Stones, 50s, 60s, 70s, 80s, etc/) An Island/Reggae/Calypso Night (Bob Marley, Harry Belafonte, Jimmy Buffett, etc.), A Tropical Acoustic Unplugged Night ("Landsharks On Stools"), a GRAND FINALE NIGHT PARTY (70s, 80s, 90s, 2000, 2010, 2020, etc.), and more!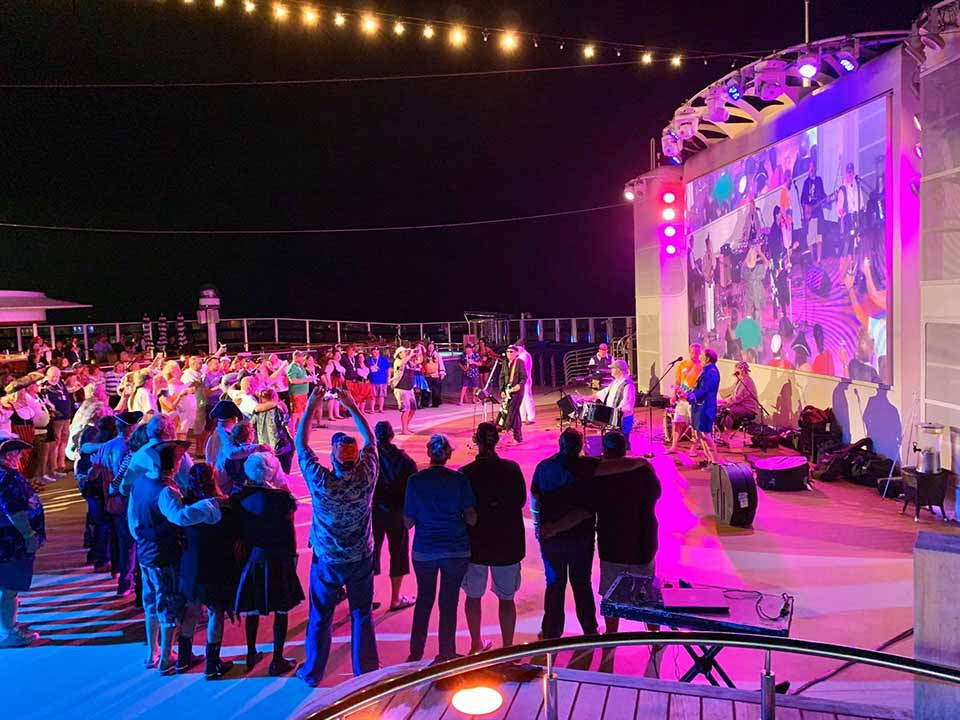 What's Included In Your All Inclusive Ticket!
A NORWEGIAN CRUISE LINE SUPER ITINERARY!....
The Norwegian Joy Cruise Ship
Miami Grand Cayman Costa Rica Panama Columbia Aruba Curaçao Bahamas Miami
The Landsharks Cruise
A cruise through the deep Southern Caribbean in the Panama Canal Region!
April 15 - April 27, 2023 *Benefiting Foster Children *FosterALife
Day 1 Saturday, DEPART Miami, Florida
Day 2 Sunday, At Sea
Day 3 Monday, Georgetown, Grand Cayman
Day 4 Tuesday, At Sea
Day 5 Wednesday, Puerto Limon, Costa Rica
Day 6 Thursday, Colon, Panama
Day 7 Friday, Cartagena, Colombia
Day 8 Saturday, Oranjestad, Aruba
Day 9 Sunday, Willemstad, Curaçao
Day 10 Monday, At Sea
Day 11 Tuesday, At Sea
Day 12 Wednesday, Great Stirrup Cay, Bahamas
Day 13 Thursday, RETURN Miami, Florida
For More Info CLICK HERE!
Balcony Staterooms
*Beds can be converted to one queen bed.
Club Balcony Suites
Double Occupancy:
IMPORTANT:
You must book through this agency (Beach Entertainment) to participate in the private concert events. info@landsharkscruise.com or by calling 1-866-426-6536
If you book elsewhere(including NCL), then you will not be eligible for event credentials and you will not be able to participate in any of The Landsharks Cruise private events.
Beach Entertainment and Talent, inc. is registered with the State of Florida as a seller of Travel. Registration No. ST43444
For more information about the cruise, click on the OPEN MENU button below